The State of the Art Market November 2020
December 2, 2020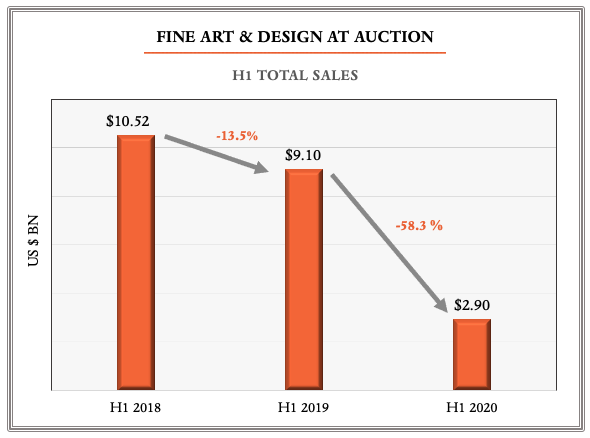 In the beginning of March, we wrote a paper forecasting what would happen to the art market as a result of the Covid-19 pandemic. Fast forward seven months, and on the week following the US election and the start of the UK's second lockdown, it felt like an opportune moment to revisit and review these forecasts, and also try to predict what will happen over the coming six months.
Our first prediction was that the market would be severely disrupted in the short-term, with restrictions on travel, art fairs and auctions causing havoc within the industry. Alas, we didn't need to be soothsayers to see this one – as it happened the entire sales infrastructure that the industry has come to rely upon in recent years has been, and remains, severely compromised by these restrictions. The travelling circus that was the global art market quite literally ground to a halt, and while long-overdue advances in online auctions and online art fairs have picked up some of the slack, they've barely scratched the surface in terms of the volume of trade that was occurring pre-pandemic. According to Artnet.com, fine art and design auction sales dropped by a whopping 58.3% year on year in the first half of 2020 alone.
The impact on the auction houses has been so significant that their business models have fundamentally changed, with lower value lots moving permanently online (heralding the end of the traditional 'day sale'), the consolidation of specialist departments, the inception of live-streamed multi-venue auctions, the demise of catalogues and significant job cuts…and it feels like there's more to come.
The gallery model also faces serious challenges. After a 10-year bull-run, in which we witnessed the rapid international expansion of 'super galleries' and explosion of art fairs to every corner of the globe, the music has stopped. The endless rounds of pre-sold exhibitions and artist waiting lists are, for now anyway, largely a thing of the past. For a sector of the market with almost as many investment buyers as there are serious collectors, this has profound implications for the Contemporary and emerging artist markets, and we are already seeing the resale (secondary) markets for numerous previously 'hot' artists take a serious nosedive. This correction has been on the horizon for the past two years and comes as no huge surprise, and ultimately we expect it to lead to a healthy 'reset' of pricing and practices within this sector of the market.
Our second prediction back in March was that the art market would be severely challenged on both the buy side and sell side, and this also appears to be true. However, once the initial shock of home confinement had passed, some signs of life returned to the market, and by the time restrictions started to ease, pent-up demand lead to significant activity in June and July.
For the market nerds amongst us, there were some striking features of this post-lockdown market. First, the prices of 'masterpiece' quality artworks largely held up against pre-pandemic levels, with notable examples including Roy Lichtenstein's Nude with  Joyous Painting, 1994, which made $46.2M at Christie's New York, Joan Mitchell's La Grande Vallée VII, 1983, which made $14.6M, also at Christie's, New York, and Rembrandt's Self Portrait, 1632, which made $14.6M here in London in late July. Second, the polarisation in performance between 'fresh-to-market' material and the rest was massively accentuated; one only has to compare the success of the Ginny Williams collection at Sotheby's in July, (where freshness, rarity, good provenance, and a decent lead time for marketing, led to blockbuster results), with the frankly dire performance of some of the poorly marketed lesser-quality material that was rushed through the October auctions here in London. Third, we're seeing renewed interest in classic blue-chip household name artists – Richter, Monet and Lichtenstein to name a few – and a shift away from the more trendy, speculative artists (with some notable exceptions of course) that were such a prominent feature of the pre-Covid art market. Finally, the market has become extremely price sensitive – put simply, collectors are prepared to walk away from deals if the price isn't right, and the number of overpriced lots that we've seen selling to the lone guarantor, or having to be withdrawn from auctions because the estimate was too high, is testament to this. The 'must-have' artwork appears to be a thing of the past.
During the last financial crisis, the art market lagged behind the financial markets before experiencing a severe contraction. In 2008, global art sales fell by a relatively modest (by comparison to equity markets) 12% to $62BN. It wasn't until 2009 that the real effects of the crisis were felt – that year global art sales fell by an additional 26% to a little over $39.5BN. By 2010, however, global art sales had risen to $66BN, a higher total than 2007, and it was largely back to business as usual. This time around – thanks to the speed at which the crisis escalated and the restrictions that followed – there has been no such lag.
Looking at today through the lens of the 2008/09 crisis, it's clear there are significant and specific challenges that are unique to this crisis. Even when a vaccine does come to fruition, it's hard to see it having much of an impact over the next six months. Instead, the market faces a plethora of headwinds, with a bleak macro-economic outlook, museum acquisition budgets slashed, dealers long on inventory and short on capital, sellers reluctant to sell, buyers less numerous and highly selective, and travel restrictions spelling further misery for art fairs, auctions and physical viewings. On top of this, large swathes of material on the market – ranging from second-rate Old Masters to certain previously 'red hot' Contemporary artists – are now virtually unsaleable and will remain so for the foreseeable future. So here at Beaumont Nathan we're forecasting a continuation of choppy and unpredictable market conditions for at least the next six months. We think supply will remain constrained, though we do expect stellar prices to still be achievable for genuinely A+ material. We think the polarisation in the market between the best and rest will continue to grow, and sensitivity to pricing will remain as acute as ever.
Wenty
Wentworth Beaumont
Co-Founder
Beaumont Nathan