Patric Johnson: the financier turned arts entrepreneur
May 26, 2020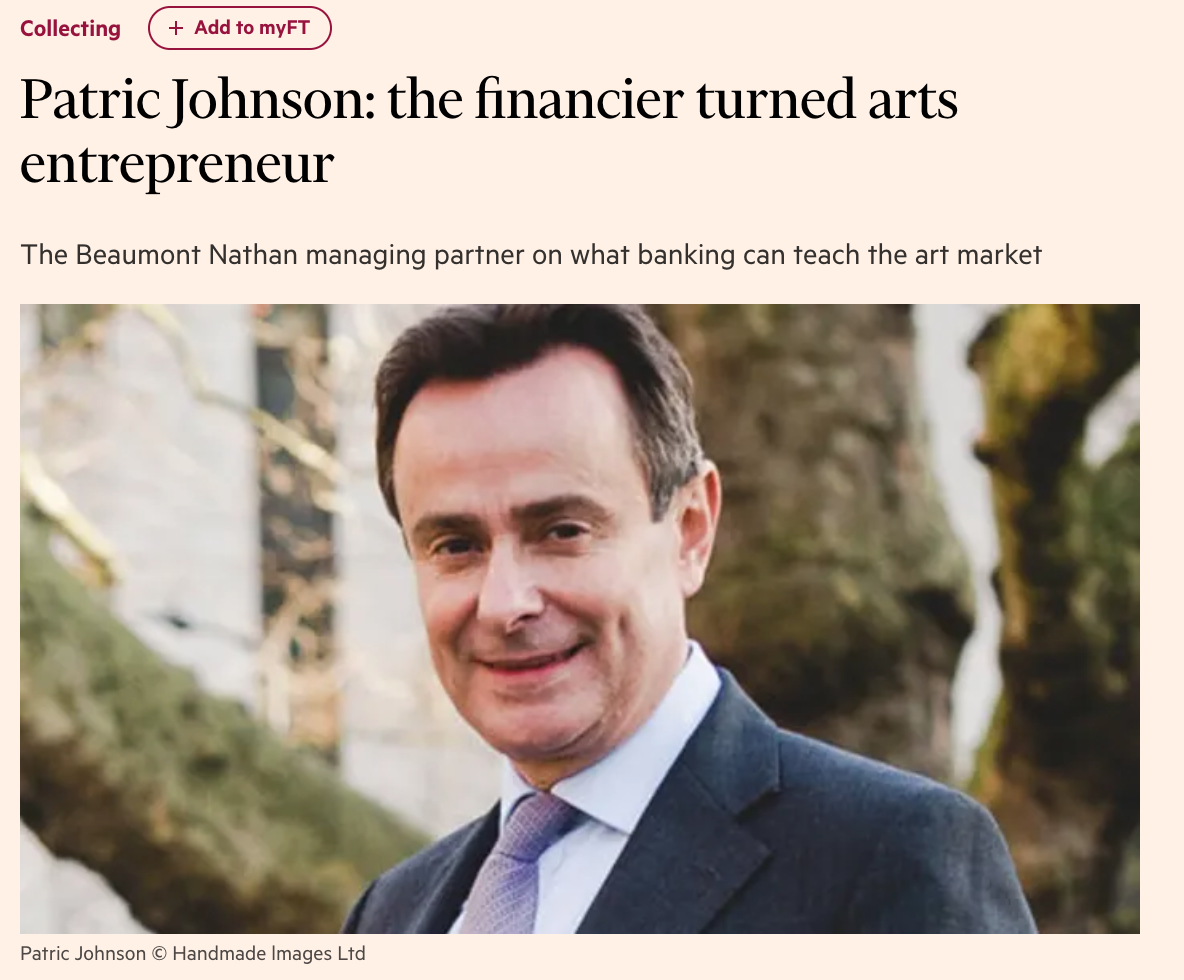 Melanie Gerlis, Financial Times, 26/05/2020
The art market can learn a lot from the banking industry, especially when staring down the barrel of another global economic crisis. So believes Patric Johnson, a former investment banker, qualified helicopter pilot and relative newcomer to the art world. Johnson became managing partner of the London boutique art advisory firm Beaumont Nathan last year.
"What is art? Ultimately it's a store of wealth and an asset class. The drivers of the value of art may be different [from other assets] but the impact of the crisis is likely to manifest in a similar way," Johnson says. While art's merits as an asset are debatable, valuations seem certain to take a hit, in step with volatile stock markets around the world.
Johnson, known to friends as Sam, believes the recovery will come, that it will be "pronounced" and that the most prized art will retain its value — though, he adds, "Real confidence will only come back to the fore once a vaccine is widely available."
A message sent to clients in March acknowledged that the art market "will be severely challenged on both the supply and demand side", and notes with characteristic understatement: "Our animal instincts dictate that we're not typically at our most acquisitive when the financial markets and world seem to be imploding."
However, the report also recalls that during the 2008-2009 financial crisis, extraordinary prices were sometimes still paid for art, notably at the three-day sale of the collection of Yves St Laurent at Christie's in Paris. This made a total €380m, with 60 lots selling for more than €1m in February 2009.
Without doubt, a full recovery won't happen overnight. "The aggregate global economy dropped 54 per cent during the 2008 to 2009 crash and took 48 months to recover," Johnson says. At that time he was at ICAP, running a shortlived equities trading business, and then went on to be chief executive of Panmure Gordon bank, which was taken private with Johnson at the helm in 2017. Most recently he was chief executive of the brokerage firm N+1.
Johnson's experience and clear thinking is no doubt of help at Beaumont Nathan, a business founded in 2014 by two art experts — Wentworth Beaumont, previously at Christie's and Simon Dickinson gallery, and Hugo Nathan, who had led Dickinson's gallery in New York. Once Covid-19 took hold, forcing Beaumont Nathan's staff to work in separate homes, Johnson hosted an economic briefing and financial market update by video conference at the beginning and end of each day. "The value of Sam joining has been proven continuously but no more so than when everyone else in the art industry was struggling to compute it all," Nathan says.
The art market has long resisted comparisons to the finance industry. But the areas have proved increasingly linked as art prices rise, regulation tightens and art buyers seek increasingly sophisticated ways to purchase and leverage their works. Johnson compares the role of an independent advisory firm to some of the boutique banks that emerged after the financial crisis. "The global banks, like the major auction houses, are inherently riddled with conflicts. They have some excellent specialists, but however good they are, it can be difficult to balance what a client wants with what management wants. A third-party adviser generally works with a clean lens," he says.
Johnson sees this as particularly important when it comes to art, as "There can be too much emotion and not enough information" behind the decision process. He describes himself as a "heathen" when it comes to appreciating art. "My wife has always loved it, but when she talked about art, I used to glaze over," he says. Increasingly, though, he is becoming a fan, thanks to the Beaumont Nathan founders who are putting him through his paces. "Hugo once left me in the Met Museum [in New York] for three hours and told me to find what fascinated me. And I was enthralled," he says, citing in particular Paul Klee's highly abstract "May Picture" (1925).
Johnson's introduction to Beaumont Nathan came through a friend and ex-Goldman Sachs partner, who was one of the advisory firm's early investors. "I won't tell you what I thought of his idea at first. But I met Hugo and Wenty, I heard their dedication and enthusiasm, and it turns out my friend was right," Johnson says.
He describes Beaumont Nathan's clients as those who want "A++-quality work", which he believes will stand the test of time. "The market for art with real value, namely hard to come by and unique, could even strengthen," he says. Johnson differentiates such works from more generic, "fluff value" pieces, churned out by some of today's busiest artists (he won't name names). These, he estimates, could lose as much as 40 per cent of their value. "The economy is falling off a cliff so transient demand will go away," he says.
Covid-19 has already impacted his business too. I completed my interview with Johnson over Webex, one of many platforms that I wasn't aware of before mid-March. "It's challenging the status quo of all businesses, but we are making the best of a terrible situation," he says. Plans to open an office in New York have been put on hold until later in the year, but, during the past couple of months, the firm upped its digital communications, with a cheering Instagram feed and new series of podcasts. Johnson is now among the Beaumont Nathan staff back in the office, and plans are for everyone to be back by June 1.
Johnson says their clients generally have a "pragmatic approach" just now. "They mostly fall into three groups. Those who are knee-deep into this crisis who are of course not doing anything; those who are understanding a bit more about the situation and think that something interesting might come on to the market in a few months; and opportunists looking to buy at discounted prices now." When it comes to the best quality works that Johnson is after, he says they are not seeing such pieces come to market at the moment — but, he adds, "When they do, stand by your beds!"