Market Review: A View From New York
May 24, 2016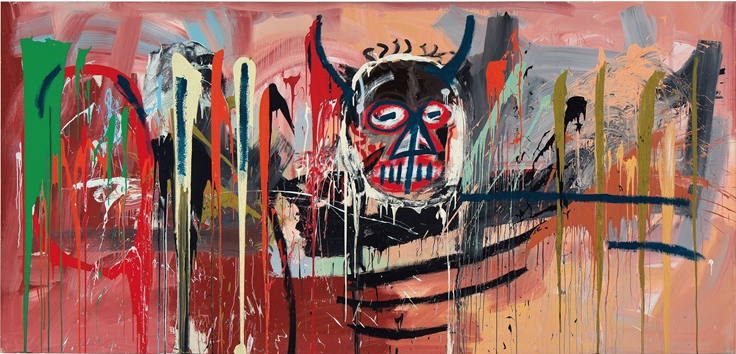 The headlines were all but written before we got started here in New York for sales week last Monday, with reports of dramatic declines in sales value from 2015's historic highs already more or less assured by a significantly reduced volume of lots, valued at significantly reduced year-on-year pre-sale estimates.
It therefore came as no surprise to find the column inches filled with gleeful (near-hysterical) reports of difficulty in the current market, and testimony to the much contracted state of the corrected marketplace. And of course, at the highest level, they were absolutely right – we are now living through much changed times in the art market where in the space of just a year like-for-like overall performance was off a phenomenal 66%.
But the art marketplace is a complex beast, and despite their eye-catching qualities, these headline figures do not serve to tell the whole story, and could largely have been predicted from the moment the pre-sale catalogues revealed the weakening supply of consignments.
So what is it 'underneath the bonnet' that is driving the market's worst performance since 2009 in the absence of a backdrop of financial armageddon, and how does this help us understand what might happen going forward?
Our Key Observations:
First and foremost, financial unrest in the early part of the year drove a weakness in consignment quality, and consequently predetermined the outcome of the sales
The outcome of these sales was in large part driven by an issue on the supply side. Sellers deciding to consign would have done so against an uncertain global economic backdrop of the early part of the year, and consequently did their best to hold on to their work if at all possible. Struggling to fill their evening sales, auction houses ultimately constructed smaller sales with lesser quality works than have typically been seen at this time of year in previous years
Depth of demand was in evidence, however, and especially for good works
On the demand side things were altogether somewhat healthier in spite of the heavily reduced headline figures. Bidding was in fact extremely healthy on good or great works, with Sotheby's well-estimated Signac, Rodin, Bonnard and Monets on Monday recording very strong results in line with their indisputable quality. In contrast, the back end of the sale – very much a tale of two halves – was stacked with unremarkable lots with optimistic estimates that went on to largely fail to sell.
This pattern was evident throughout the week, and spoke not to an issue of general constricted consumer spending or a lack of confidence in art-specific expenditure, but more a dearth of the right things to spend on
That being said, the general psychological impact of a muted marketplace appeared to dampen demand at the top of the market 
"It's thin above $10M" was our bold assessment in Bloomberg on Tuesday morning, and with the exception of the 'Basquiat Battle' between a lone Japanese buyer clearly in the mood and the guarantor bidder, we were proven right. High profile failures to sell included a $20M-rated Derain and $12M Renoir, whilst $25M+ rated Rothko, Monet and Clifford Still's only managed lone bids.
We believe a natural sense of caution (or realism depending on how you see it) enters the thinking of buyers at this level during dampened times. This was reflected in relatively deep and strong bidding for the right things in 7 figures, contrasting with limited depth of bidding at the very top end of the market
A worrying lack of energy evident in the Impressionist & Modern salesrooms
Although hesitant to jump too prematurely to strong conclusions regarding the state of the Impressionist & Modern market, we couldn't help but feel a disconcerting lack of energy and bite to the salesrooms in each of the major sales last week. Whether it was simply a lack of inspiring material on the block, or a more fundamental shift in consumer taste, the rooms resembled something more similar to a dreary Old Masters sale than their more buzzy Contemporary counterparts.
Granted, great Impressionist things sold well, and we expect them to continue to do so. But increasingly the 'long-tail' of lesser material stuffed at the back of these catalogues is going unsold or attracting feeble bidding. We have seen this unsettling pattern before in the Old Masters sector, and we just wonder whether changing emergent modern tastes spell the same outcome for this other traditional sector
Our Key Conclusions
Generally the issues are on the supply side. Most collectors still retain an appetite to buy …they just can't find the right material to spend on 
Unlike 2009, we still see a comforting degree of latent demand in evidence on the buy side, and it is instead largely a sell-side contagion that is perhaps understandably driving weakened sale statistics
We now appear to be returning to a 'real market' where good or 'on trend' things are sought after and attract strong attention and where lesser things do not
"When the good material does really well and the poor doesn't, its symptomatic of a healthy market" was the Beaumont Nathan view quoted in the Financial Times this past weekend. With hype and froth largely stripped from the more traditional sectors, prices finally appear more correlated with quality than they have done in some time. Whilst things are slightly different in the Contemporary sector where it is more difficult often to distinguish between good, great and simply 'on trend', a welcome dose of realism does also seem to suggest something of a more settled current market. The reduction in guarantees must also be credited with contributing to this effect as false floors are no longer set on a number of lots
This is a problem primarily for the auction houses…and actually spells good news for buyers in the market
Auctions are cyclical in nature, with one weak auction typically begetting a confidence drought on the sell side and a caution on the buy-side that leads to another. We are clearly now in a downward cycle with February's tough sales giving way to another muted performance this May. We don't feel we have reached the bottom as far as the major sales go, and now expect a similar challenge upcoming in June. One bright spot might come in the form of the emerging popularity of Modern British work, with interest growing on the other side of the Atlantic likely to support prices. But in the mean time the pendulum appears to have swung firmly in the buyer's direction and we think this makes it a time of great opportunity for those with money to spend
Now may be the time to seek opportunity in the private market
We expect good deals to be on the table going forward for buyers, but with limited material appearing at auction, and attracting the full force of the public gaze when it does, now may be the time to seek privately sourced deals. Moreover, risk-averse sellers may increasingly look to the channel as lower risk when disposing of their very best pieces
Beware anything not museum quality in the traditional sectors, especially if you are looking to protect your investment
If there is one concrete conclusion to be made from the depressed Impressionist & Modern sales this week, it's that you are only certain to be safe from the vicissitudes of the market if you are buying top end material. Our philosophy has always been to buy only 'museum quality' product, and now more than ever this seems a shrewd principle to follow. With the future appearing uncertain for the sector, now is not the time to be buying sub-standard material